Percale, cotton satin, cotton renforcé, washed cotton, cotton viscose or flannel? What's the difference?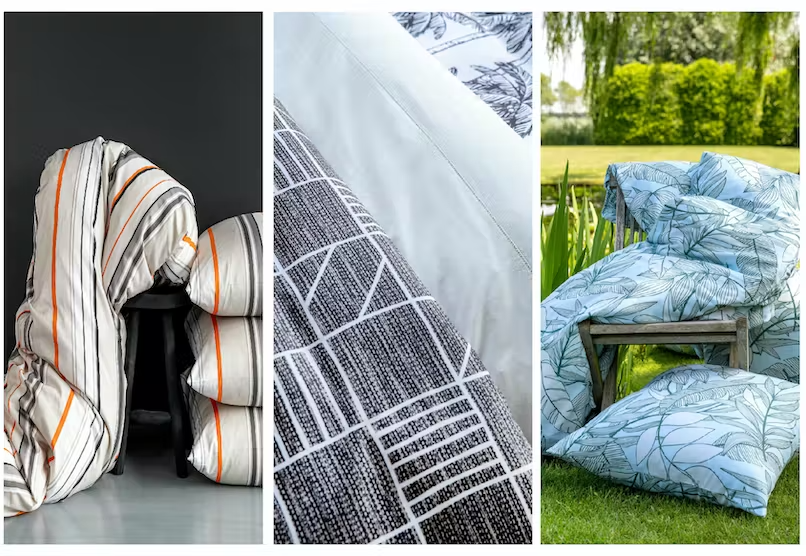 What is the difference between percale, cotton satin, cotton renforcé, washed cotton, cotton viscose and flannel?
We prepared an overview for you.
We are happy to explain the different qualities and where exactly the difference lies.
With duvet covers, the difference lies in the weaving technique and the composition of the fabric. For instance, some people are dubious about satin because they find the fabric too smooth and too shiny. But this is not due to satin weaving technique but to the composition of the fabric. It often contains a high amount of polyester. Our bed linen is made of 100% cotton!
Why do we choose 100% cotton? Cotton is soft and supple, moisture-absorbing and breathable. The perfect choice for bed linen.
Thread count
A thread count represents how many threads there are per inch.
And what is an inch again? An inch is 2,54 cm.
So it counts how many threads there are per 2,54 cm².
Cotton satin
The term satin refers to the weaving technique. This can be done with polyester or with cotton. This weaving technique uses 4 weft threads over 1 warp thread.
We deliberately choose the breathable and natural cotton fibre. Polyester does not breathe and is not absorbent, which is not recommended for a duvet cover.
Cotton satin is smooth, shiny and feels silky-soft.
Percale
Percale is supple, firm and soft but without the sheen of satin.

Percale also lasts longer and is easier to maintain. A vertical thread passes over each horizontal thread in this weaving technique.

Cotton satin vs percale
A cotton satin woven fabric is ideal for a duvet cover due to its supple and shiny appearance.
As fitted sheets, percale woven fabrics have an edge due to their method of weaving that is more resistant to friction, which duvet covers suffer less from.
So you could say that a percale fitted sheet and a cotton satin duvet cover is the ideal combination.
Cotton renforcé & washed cotton
In cotton renforcé, the cotton fibres are woven in a flat weave. This creates a very firm fabric that is perfect for bed linen.
Cotton renforcé sleeps pleasantly all year round.
Washed cotton is cotton that is hot washed and therefore has a kind of crinkle effect.
Washed cotton is extra soft and has a relaxed feel. You don't need to iron it so it is easy to maintain.
Flannel
Nice and soft and warm, perfect for the cold winter months. Flannel consists of 82 thread counts and is 100% brushed cotton.
At Mistral Home, the cotton is brushed on both sides for an extra woolly effect.
Double and thick enjoyment.
Cotton viscose
Unlike all our other duvet covers, these duvet covers are not made of 100% cotton, but with 50°% viscose.
By doing so, we opt for a water-saving production process.
Viscose is a cellulose fibre extracted from wood pulp.
By choosing viscose from LENZING ECOVERO, we choose fibres gained from sustainably managed forestry and with lower CO2 emissions than conventional viscose.
Cotton viscose is a soft fabric with a sophisticated look.
It is a sustainable and ecological product.

Do you have all of your essentials already?